"Detritus? Are you s###ing me?..."
Plus!: Creepy crawling lilies of the deep! They will
astound
you!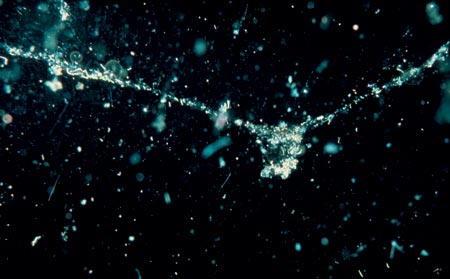 An image of marine snow, little gooey particles of a variety of organic matter that slowly sink to the bottom of the ocean, also known as marine detritus. Marine snow plays an incredibly important role in the ocean's carbon cycle and is a major source of food for deep-sea organisms. Image from Woods Hole Oceanographic Institute.
So this one's for Leslie:
D
on a subject in oceanography.
I chose to write about an important part of about 2/3s of my PhD thesis: marine snow, also known as marine
detritus.
What is
detritus
? Well, it's the pieces of organic material - some of it dead organisms and fish feces, but also a large part sinking dead phytoplankton, zooplankton and bacteria.
Phytoplankton
are tiny plants living in the oceans.
Zooplankton
are very tiny animals and other
heterovores
living in the ocean.
So yes.
I built computer models of sinking fish poop for my PhD.
:-) (Okay, not fish there, just plants, but you get my point.)
But something more wonderful and interesting than that are
detritovores
, all the wonderful and interesting creatures that swim through the water or live on the bottom and eat the plentiful, glittering poo-snow as it rains down from the near-surface of the water.
Most food in the ocean is made in a thin layer called the
euphotic zone
, or "beautiful light zone," which is only the first 100-200 meters (about 300-600 feet) of the ocean.
The creature who live below that have to wait for their Christmas presents from above in the form of (among other things) detritus.
One really cool group are the
sea lilies.
In the geologic record they're better known as
crinoids
.
A sea lily. That's an animal, not a plant.
Another sea lily. It's eating the detritus floating in the water around it. From NOAA.
And in the weirdest of the weird.... I bet most science fiction writers have never seen anything like this!:
And that's
detritus
(the falling bits of organic matter that help sustain life in the deep ocean.) As an added bonus, a little on one type of
detritovore,
or detritus-eater. Plus a creepy lily that can crawl!
****
Coming up in future posts:
photowannabe
, animals, "E"
PhenoMenon
, astronomy, "F"
Carver
, conservation of natural resources, "G"
ChrisJ
, botony, "H"
LC Scotty
, statistical mechanics, "I"
mrsnesbitt, biology, "J"
Black Jack Carol, physics of sound, "K"
Have a science topic that interests you? Let me know! You can even ask for more than one!