"Of course I'm well-informed. I watch the news..."
- Just About Everybody
What if your view of people different from you was entirely built by television?...
So might rename this blog "A long, winding conversation with Roger."
Because Roger asked an interesting question in my comments: "But
why
is there a 'strong right-wing base'? In any case, I'm more worried about 'normal' people being sold on loss of freedom based on their concepts of God, guns, and, ironically, freedom."
For some reason, when I went back and looked at the comment, I thought "Wait, what Roger means by 'normal' is 'not me.'" Maybe that's incorrect, but I don't think so.
Because I love, you know, God, country, guns, etc. The whole kit-n-kaboodle. And I even have a lot of friends who love God, country, guns, etc... but... I have to admit I'm not like them.
I have to admit at the university I'm perceived as the "nice slightly right-wing screwball." Or at least that's my perception of how my ideas are received. With my husband's military friends they have referred to me as "our resident hippy."
But, although I love my friends who are gun-loving, God-loving Americans a bit like me, in other ways... they're not like me. And, for many of them, their families are very much "not like me."
I love religion for its profound philosophy, poetry and story. A lot of people I know are a lot more literalist than I am. I'm very patriotic in my way, but I'm certainly not uncritical of my country. As Proverbs says, I rebuke a friend when I criticize my country (Proverbs 27:5-6.) I love my country; I'm not so deluded as to think it's perfect.
But I know many, many people with really backwards views of people of different religions, races, etc. I know people who think that crime is out of control, even though it's down.
Stop and really, really think what your view of the world would be if you never met a Muslim in your life; if you never worked with people from different backgrounds and races; if your entire life all the people that you know are your family and your town and people who shop at the gas station where you work...
And now picture that whole thing, but the only information from the outside world is fed to you via FOX News. And it doesn't seem weird, because all the people you know watch FOX News, too.
Would you really think the world is round if every person you knew also knew that the world was flat? You can see it - it's obviously flat, isn't it?
Why would you question something that is obviously true, that everyone around you
knows
is true?
This is a serious, serious problem, because it explains very well why so many rural people - and isolated people in general - are right wing.
If you look at the news and don't dig deeper, it really looks all bad. We're living in a dangerous, dangerous world according to the news.
What would Muslims look like from that perspective? What would people of other races look like? I think that they'd look pretty dangerous.
Why?
The news is not there to inform you, it's there to get you to buy the stuff advertised during commercial breaks.
And what will make you keep watching? A long, winding argument about foreign affairs? An in-depth coverage of the national debt?
Would you seriously watch somebody basically try to balance the nation's checkbook on TV? Would most people?...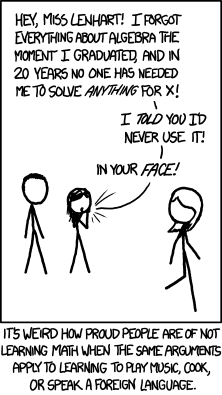 If it looks like the rest of the world is really dangerous, you need somebody to protect you.
And that's how really, really bad things have happened throughout history. The outside, different world is scary and dangerous, and we need protection from them.