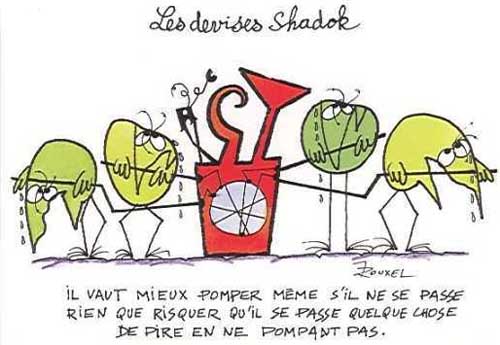 The caption reads "Better to pump even if nothing happens than to risk something worse happening by not pumping."
My French-born supervisor and colleague occasionally gets in the mood to show me hilarious French pop culture. I don't speak French at all, but he either translates for me or assumes I will catch just enough to get it.
This past Friday he showed me a video of a cartoon he grew up with, "Les Shadoks," funny little birdlike creatures that were also a commentary on Cold War France. He was a child when they came out, so he adored the cartoon; after watching a few, I can definitely understand why they may have been popular with a hip 20 something crowd in the late 1960's.
So I decided to share some fun, trippy European pop culture.
First, an exceedingly trippy, fun French children's music video, "Un monde parfait," which was
huge
on the German/pan-European music video channel "Viva." You can probably guess why it was such a hit with ravers:
Another very trippy video - and one not meant for children - "Ding," by the German group Seeed:
More German fare. I did research for a brief while in Bremenhaven as part of my position in Denmark. Bremenhaven is a weird place. I crossed the "John F. Kennedy Brücke" every morning to get to work. This video is Dienen, by Ich und Ich. It's very touching, actually:
And one more silly one... "We're German":